SAFETY RESOURCES
1. Chainsaw Course
With the course – 1st (5) will have their course paid for by the Club annually. You must hold a valid Alberta Snowmobile Association (A.S.A) Membership Trail Pass to qualify for re-imbursement.
2. Town of Whitecourt By-Laws
Brochure – Snowmobiling 2009 (whitecourttrailblazers.ca)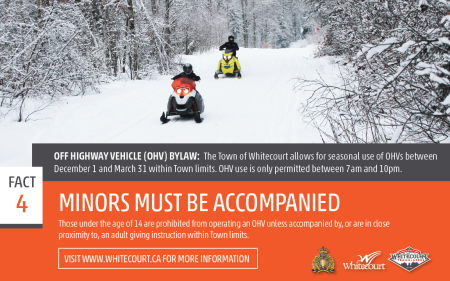 3. Safe Work Execution Plan – Trail Maintenance Form
http://www.whitecourttrailblazers.ca/wp-content/uploads/2023/11/Safe-Work-Execution-Plan-1.pdf
4. Trail Cleaning Safety Bins
Safety Bins are available for sign out for Trail Cleaning or other activities that require safety gear. In the bins we have available:
Safety Helmets with shield, chaps, ear muffs, safety glasses, safety vest, laminated Trailblazers' Trail Map, Safe Work Execution Plan Documents, tree safety picks, First Aide Kits. We will be adding other items as we see needed.
Please contact our Safety Co-Ordinator Denis Blain. Please call: 780-778-1284
5. Alberta Snowmobile Association – Safety Resources Link
Link speaks to Current Avalanche Course Training links, Alberta Snowmobile Safety Education Course, Safety Videos, Things to Have on the Trails and Hand Signals on the Trails
https://albertasnowmobile.ca/discover/resources/safety#:~:text=Avalanche%20Saftey%20Training,Hand%20Signals
6. Alberta Snowmobile – Groomer Guide
7. Alberta Snowmobile – Guidelines for Snowmobile Trail Signs and Placement
http://www.whitecourttrailblazers.ca/wp-content/uploads/2023/11/ASA-Signing-Guidelines-2021-1.pdf